Premium Shower Screens Melbourne
The Best Shower Screen Installation, Repair and Replacement Service in Melbourne.

Welcome to Speedy Shower Screens – Melbourne's leading provider of shower screen installation and replacement services. Established in 1992, our family-owned business has grown from a single-person and truck operation to a team of over 20 full-time employees and a fleet of 20+ vehicles, all dedicated to providing the highest quality service for our customers.
At Speedy Shower Screens, we are committed to providing our customers with the best possible experience when it comes to shower screen installation and replacement. From the moment you contact us to the completion of your project, we guarantee speed, service and satisfaction, no matter the size or complexity of the job.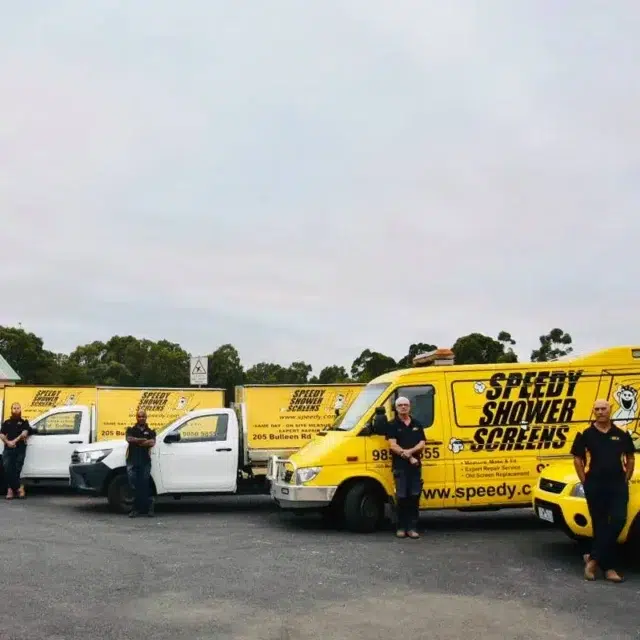 When you work with Speedy Shower Screens, you can rest assured knowing that you are working with a professional. Our team of dedicated installers are all employed by us and are equipped with an appropriate white card, first aid certification and police check. We are committed to providing ongoing training to ensure our team are up to date with the latest products and technology.
At Speedy Shower Screens, we live and breathe our values of ethical, reliable, prompt and courteous service. We understand that when it comes to shower screens, you want a job done quickly and correctly the first time, and that's why we are proud to offer an on-site mobile manufacturing unit, fitted with GPS tracking so we can provide an efficient and reliable service.

We are committed to preserving the environment and supporting other Australian businesses. We also offer a 100% natural, non-toxic and eco-friendly do-it-yourself silicon coating to provided added protection to your shower screens, that's developed and made in Australia.
We understand that the customer is king, and that's why we value customer service above all else. Our team will always go the extra mile to ensure you get the best possible result.
If you're in the market for a shower screen replacement or installation, look no further than Speedy Shower Screens. Give us a call today on 9850 9855 to discuss your project and get a free, no-obligation quote. We look forward to working with you!